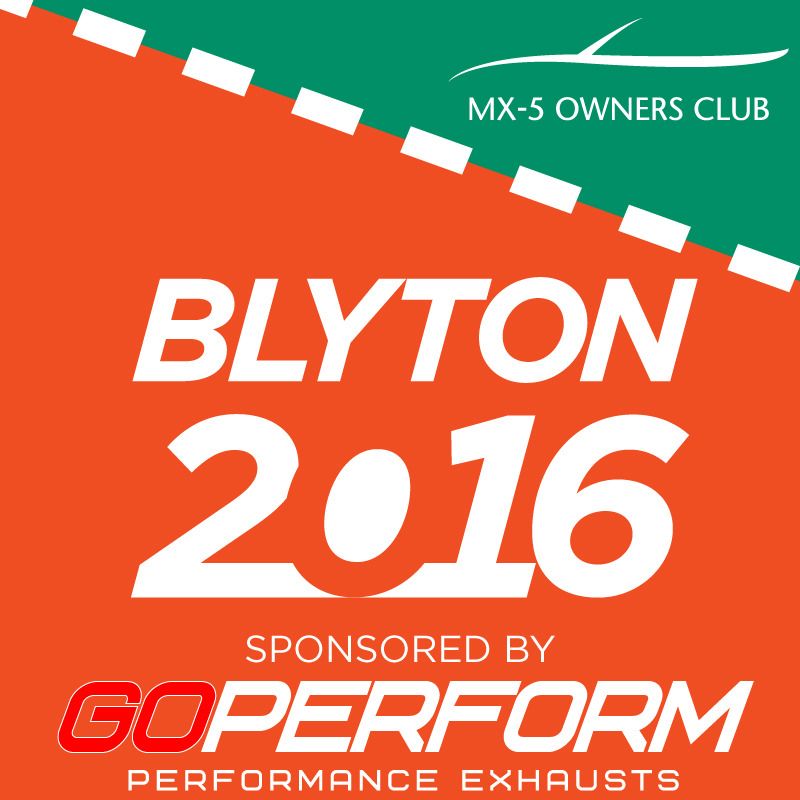 11TH & 12TH JUNE 2016
I am very pleased to announce that
GOPERFORM
Performance Exhausts
Has offered to sponsor Blyton 2016
With motorsport very much in mind, Go-Perform Manufacture Performance Exhaust Systems, and supply sport lowering springs and coilover kits. For more information you can contact them on: 01909 551122 or lee@goperform.co.uk
If you are local, Why not call in to the work shop at: 4b Eden Place, Outgang Lane, Dinnington, Sheffield S25 3QY.
As like other years, the MX-5 Owners Club is giving its members the opportunity to take part in a Weekend Track Day Event especially for the MX-5. The event is designed specifically with the total novice in mind, without forgetting the everyday track day enthusiast. With this event we have to offer separate morning sessions for novices with a full tutorial package. This will include briefings on: preparing your car for on track, how to drive and look after your car on track and how to drive fast and safely on the Blyton circuit and finally a question and answer session. Also offered as part of the package will be the first option on the use of club helmets (open or full face) and basic tools and equipment available to use for the preparation of your vehicle. For the people who have done track days before or are a confident track day enthusiasts, we have to offer both morning and afternoon Open Pit Lane (OPL) sessions, or a full day OPL at a reduced rate inclusive of camping. For those that would like to improve their skills on circuit there is the opportunity to have one on one instruction by a fully qualified instructor (booked on the day).
To help and give support Mazda Mender and his team of volunteers will be on hand to fix any poorly or sick cars so that you can get back on track or to get you home. These guys are all professionals and will be giving up their spare time to work free all weekend.
A full breakdown of bookings and how too book your tickets can be found in the club store. It would make an ideal Christmas or birthday present for your spouse or partner.
As with past years there will be the Marquee where signing on and briefings will take place, and our main sponsors will have their products on sale at reduced prices. Camping will be available for the Friday and Saturday Night and is inclusive with the all-day OPL tickets. Gas BBQ's will be available to use on Friday and Saturday evenings for everybody to use, just bring your own food. This year we are asking members to bring your own beer and we will provide the music.
Over the next few months the event will keep growing, with additional things being added as we build up to the actual event in June. Keep you eyes open and look out for the information in STHT and the forum.